"It was a fantastic thing, like a fiction film, you were on the beach and suddenly appeared a can full of marijuana," described a famous brazilian actor.
And so it was, from Rio Grande do Sul to Rio de Janeiro: thousands of hermetically sealed cans without labels, each with about 1.5 kg of weed, began to be sighted, searched and shared. A cultural phenomenon was born: the "summer of the can."
The amazing episode – which, at the time, ended up in samba songs, slang and lots of smoke – is being rescued on a new book, "O Verao da Lata" (The Summer of the Can), written by the journalist Wilson Aquino.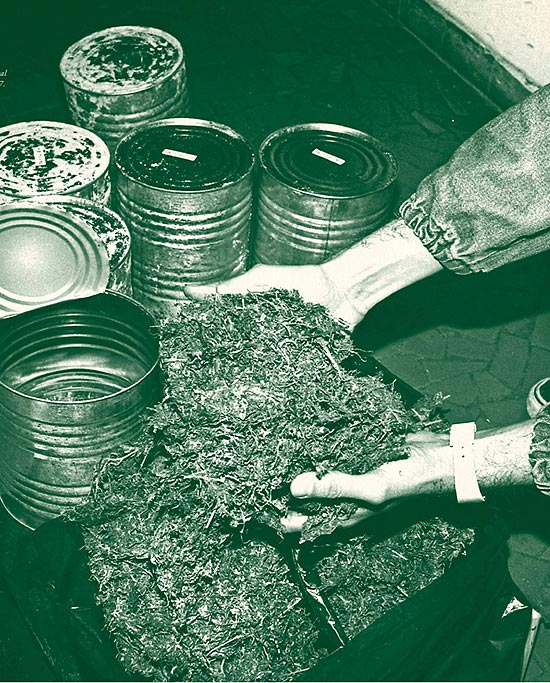 The first cans began to emerge around 20 of September of 1987, on the coast of São Paulo. According to the Federal Police, they were the load from the fishing boat Solana Star, a Panamanian flag vessel that had left Australia, stopped in Singapore to stock up with 22 tons of marijuana and headed to Miami with a stop in Brazil. Squeezed by the Brazilian authorities, who hunted them at sea after an alert from the DEA (the American Anti-drug Agency), the crew of the Solana Star got rid of the cargo throwing them in the water.
With the help of winds and tides, the cans were scattered over a range of nearly 3,000 km of brazilian coastline. Once the news spread, most cans didn't even reach the sand – fishermen, surfers and some adventurers (and the police) would pick them up at sea.
Apart from the unusual situation, the herb also gained fame for its high quality, according to users. According the this famous actor, every week there was a party with a surprise result from the cans. It was the motivation of the summer. People would gather on the sand to use it.
As the load dropped at sea was immense – the estimated 22 tons would be enough to fill about 15 thousand cans – and the Federal Police seized only 2,563 cans throughout the country, people definitely had a lot to share.
From http://www1.folha.uol.com.br/ilustrada/1129173-livro-relembra-o-verao-de-198788-em-que-latas-de-maconha-apareceram-no-mar.shtml
http://entretenimento.uol.com.br/noticias/redacao/2012/09/25/verao-da-lata-conta-como-22-toneladas-de-maconha-acabaram-nas-praias-brasileiras-em-87.htm