At least seven minors were seized and taken to the 14th Precinct ( Leblon ) Friday ( 15 ), accused of shoplifting at beaches in the South Zone of Rio, according to the Civil Police.
Some swimmers were alarmed, believing that it was an "arrastao"(several people robbing everyone). The Civil Police, however, denies that there has been that since no victim reported the case at the police station. According to the police, there were only isolated cases of thefts. The crimes were concentrated in the region of Arpoador. According to the Military Police at least 25 officers worked in Arpoador on Friday.
An article posted on O Globo, highligths the case of the americans Reanna Leitaker and Bozena Sawa, that do not know themselves but share the same opinion about the "lack of initiative" of he Rio Police. At different times and places, both were mugged and sought the help of police and, in both cases, were left disappointed. Reanna Leitaker lived in Rio for two years ago and knows the problem of violence. She was with her bicycle when she was attacked by about 20 thugs in Arpoador, at 2pm, at a full and well policed ​beach.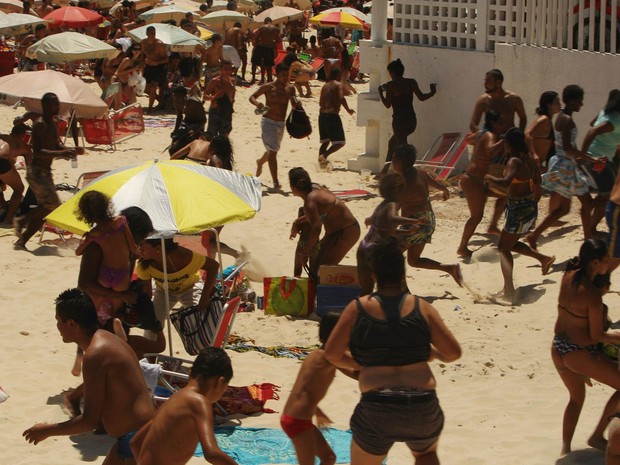 Picture from Severino Silva/Agência O Dia/Estadão Conteúdo
As for the New York-based journalist Bozena Sawa, she was robbed last October, when she returned to the hotel where she was staying, in the neighborhood of Gloria. She was in Brazil for work and had passed through the cities of São Paulo, Campinas, Ribeirão Preto, Curitiba, Foz do Iguacu, Salvador and Brasilia, doing interviews, photos and videos. It was precisely the last destination, Rio de Janeiro, the she lost everything she had to a group of minors who attacked her a few meters from her hotel, around 8pm.