Brazilian nurses created an alternative condom dispenser that caught the attention of the Ministry of Health. The dispenser itself was adapted in the cardboard packaging where the condoms come in and serves as deposit for the box of condoms. The dispenser is supplied by the State Department of Health and distributed to the Basic Health Units in the municipality, schools and public spaces.

Brazil's condom dispensers.
In a high school in Macapa, the dispenser became reason of lectures to parents and children. With students aged 15-40 years, the school has faced resistance to implement the project. But the teachers explain that the school does not encourage the students to have sex. "We educate. Our young people are informed of what should be done about prevention. Therefore, the pregnancy rate, for example, here at school is much smaller compared to others," they said.
To implement the project, the school had the support of the Ministry of Education through the program Health and Prevention in Schools (SPE). "Sex education should be on the school curriculum and should not be taboo in any educational institution."
In a bar in town, the owner has approved the idea of ​​dispensing condoms. "In my opinion this is an appropriate place to have a dispenser. Here people are vulnerable because of the alcohol. The dispenser is out of the bar and everyone can grab a condom. Near here is a prostitution point. Many people come to grab a condom, " says the owner.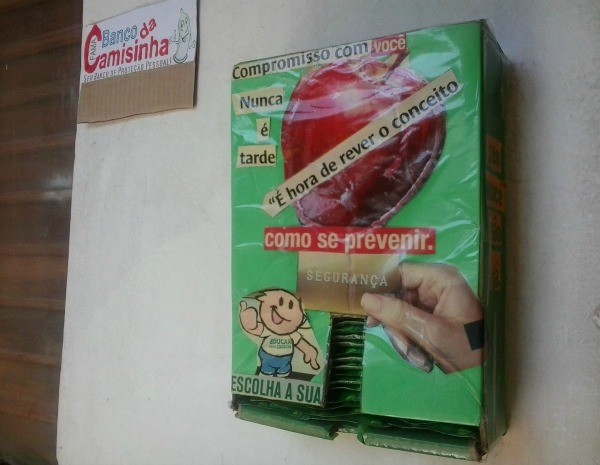 Brazil's condom dispensers on display at a school.
Source: http://g1.globo.com/ap/amapa/noticia/2013/06/dispensador-de-camisinha-do-ap-vira-modelo-para-ministerio-da-saude.html