The man who drove about 50 miles with a chainsaw stuck in his abdomen in Rio Grande do Sul, Brazil, is well and should be discharged in the next few days. According to the hospital, the farmer Gregory Steinmedc is feeding well and showing good disposition.
The 56 year old man was required to travel to the nearby town and wait for surgery for about two hours on Monday (10). He used a chainsaw to cut firewood in the shed home when he suffered the accident.
We have recently showed another brazilian with a harpoon in his face. Are brazilians highlanders!?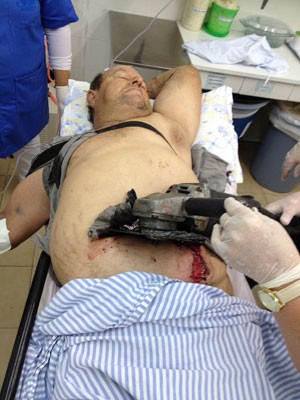 The man asked for help from his wife, who did not let him remove the blade and brought him to the hospital.
According to them, they took two hours with the chainsaw attached to his abdomen. The surgery lasted another two and a half hours and according to the surgeon, the cut caused by the chainsaw was 10 cm depth, but did not pierce any vital organs.
Already recovered from the procedure, he says he never wants to go near a chainsaw again.
Source: http://g1.globo.com/rs/rio-grande-do-sul/noticia/2013/06/homem-que-ficou-com-serra-presa-na-barriga-passa-bem-diz-hospital-no-rs.html