Inside the stadium there were no cops. Internal security was done by private contractors for the service, hired by the board of Atletico – PR. The local police, responsible for the security in the vicinity of the Joinville Arena, explained why there was no police inside the stadium because it was a private event and security was the responsibility of a private company.
Several players from both teams showed to be shaken by what they saw happen between fans. The defender Luiz Alberto was one of the most shocked, and even cried.
The Health Board of the city of Joinville said several fans were sent to the local Hospital after the brawl between fans of Vasco and Atlético- PR in the stands of the Joinville Arena.
The game was stopped after 17 minutes of the first half, when the team from the south of Brazil was 1-0 agains the team from Rio, with a goal from defender Manoel. The game resumed an hour and ten minutes later, when the southern team thrashed by 5-1, debunking Vasco to the second division.
Initial reports show that there were fans in a coma, but the City Health Department says that everyone is fine. The brawl was widespread, and had impressive scenes!
Latest reports show that one of them died. This is the country of the World Cup 2014.

Picture from veja.com.br
The clash between fans of Atlético-PR and Vasco this Sunday began to attract world media. The site of the newspaper "Marca", from Spain, called the episode "unleashed violence." In turn, the Portuguese "Record" referred to the incident as "war scenario", while "The Ball" cited a "fierce battle" between supporters.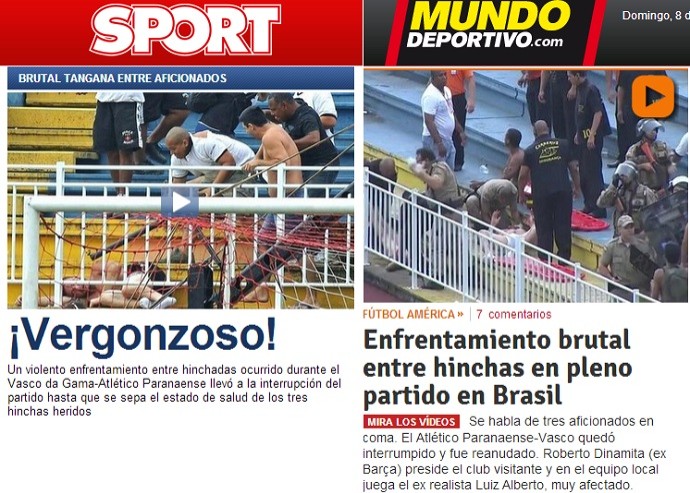 Meanwhile, the Catalan "Sport" dedicated the headlined of the portal to the episode, calling it "shameful". The "Mundo Deportivo" also gave prominence to the confrontation, quoting a "brutal confrontation between fans."

In the Netherlands, the "NU Sports" reported the fight. One of the major tabloids in England, the "Daily Mail" also highlighted in the headline of your website images of confusion. The English also "Mirror" arrived to question whether the incident would raise questions about security for the World Cup 2014.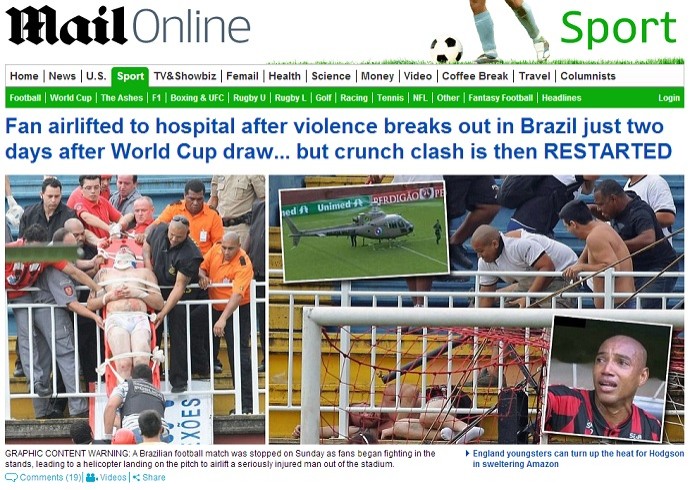 Info and pictures from OGlobo, Ig and Veja.