One of the most searched terms about Brazil on Google  these last weeks was "Brazil referee". One could argue that it has to do with the World Cup, and in fact it does. But I believe most people would search for the players names or the teams that are playing, etc… and not exactly for the referees at the matches. It turns out that they are referring to a very special referee that caught the Internet's attention recently.
It's rare for a referee to become an internet sensation for anything other than a game-changing gaffe but that can't be said of Fernanda Colombo Uliana, a 25-year-old Brazilian assistant referee that has just been granted FIFA official status by the refereeing committee of the Brazilian Football Confederation.
The Brazilian referee has become something of an internet sensation for her model looks after officiating a major league game in Brazil.
Fernanda's Facebook is: https://pt-br.facebook.com/fernanda.colombouliana and she can be contacted for events now that she became a celebrity. Soccer fans are not too happy about her bringing up that she made two major mistakes on two recent Series A games.
And before anybody asks: no, she is not a referee at the World Cup!
On the video below, you can watch her in action.

But it seems that the hot Brazilian referee is not the only reason that makes "Brazil referee" a top searched keyword on Google.
A recent incident on the northeast of Brazil where a local league referee was decapitated after stabbing a player also made international headlines.
The story happened at Centro do Meio, a small town at the state of Maranhão. Thirty-year-old Josenir dos Santos Abreu approached the referee, 20-year-old Otávio Jordão da Silva Cantanhede during a match to argue a call. Abreu reportedly threw a punch at da Silva, who then took out a knife he was carrying with him during the match, and stabbed the player. Abreu died of his wounds en route to the hospital.
According to investigations, Cantanhede arrived to join a very informal pickup soccer game but in the first half he suffered a minor injury, and became the matchup's referee. In the second half he issued a yellow card to 30-year-old Abreu. Abreu had only planned to watch the match, but was recruited at the last moment to fill out the teams.
The two argued. They were separated, but continued verbal sparring. Abreu punched and kicked Cantanhede; Cantanhede drew a knife and stabbed Abreu twice. He was driven to a hospital, where he died.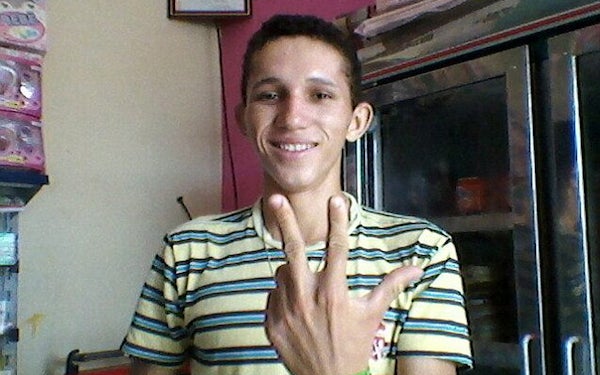 Players and spectators tied Cantanhede to a tree with a rope to prevent his escape. After that, a friend rode over his body with a motorcycle, then another friend hit him with a liquor bottle, and another beheaded him.
The story made the news and got famous online, and a video on LiveLeak shows the gruesome images of the referees body.
There are fights all the time at local informal soccer matches all over Brazil and many still lead to serious situations like this. The name of the town stands for "Center of the Middle". Middle of nowhere for these hopeless young people.